Click here for safety resources and a campus safety report in the 2022-2023 Locklin Technical College Campus Safety Brochure
As part of the Santa Rosa County School Board, Locklin Technical College operates under the district's safety plan and adheres to all safety protocol. Additional guidance and procedures can be found at the Safety Department's Website and in the district's Emergency Response Plan, Locklin Technical College Emergency Management Plan, the SRC Standard Operating Procedure (SOP), the Active Assailant/Hostage Emergency Response Plan and the SRC Reunification Plan.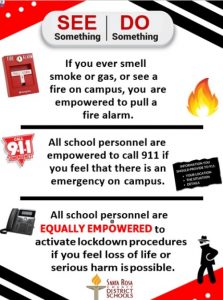 All SRC employees on the Locklin Technical College campus are empowered to act if you feel that a situation will present serious harm to employees, students or visitors on this campus.  This includes all safety protocols on campus, including, but not limited to, the LOCKDOWN procedures.  Everyone on campus is equally empowered to act if a situation warrants action. IF YOU SEE SOMETHING; DO SOMETHING.
Locklin Technical College is committed to equipping students and staff with resources on prevention and awareness programs concerning campus safety.
Dating violence is one issue common amongst students that approximately 1 in 4 women and 1 in 10 men experience in their lifetime. It is defined as a pattern of abusive behaviors – usually a series of abusive behaviors over a course of time – used to exert power and control over a dating partner.
Take some time to watch the video "Then Everything Changed" to learn about living, learning, and working in environments free from harm or abuse.
For more safety-related information, follow this link to the Consumer Advocacy page.
Health and Safety Plan
This plan outlines the policies and procedures that are used to ensure that the health and safety for the faculty, staff, students, volunteers and guests on the campus of Locklin Technical College. This policy is meant to meet the goals and objectives set forth by the Santa Rosa County School Board, the Superintendent of Schools and the LTC Administration. Click here to view the 2022-2023 Health and Safety Plan.